June 27, 2007
Who you know...
Rob at BusinessPundit.com has a great post on How to Get Ahead in the Modern Business World.
I applied every semester for two years. Still nothing. ... Two years of following the rules got me nowhere. One hour of meeting with a real engineer got me what I wanted. He never asked for my resume. Never asked about GPA. Never asked anything except whether or not I wanted the position. It was my first taste of a major life lesson - it's who you know, not what you know.
Posted by Bob Pritchett at 10:08 AM | TrackBack (0)
June 25, 2007
Confirmation scams
To: Employees
Re: Scams
The Wall Street Journal just called to try and upgrade my subscription.
Recently I've seen the WSJ arriving here, but I never ordered it. Yet, according to the caller, we've got a subscription in my name.
I'm also getting a men's lifestyle magazine that I'd never even heard of.
Most likely these subscriptions will result in a bill, and it may even get paid. The product is arriving, right? Shouldn't it be paid for?
As our company gets larger, it's harder and harder to protect against "order confirmation" scams.
An order confirmation scam usually starts with a phone call to a random employee who is asked to "confirm" something. The caller doesn't ask "Do you want to subscribe to my magazine?" The caller says "I'm calling from Magazine regarding your subscription, and just want to confirm that your address is 1313 Commercial St., etc..."
Your innocent fact confirmation is recorded as an order.
Well, if they're bad guys, why do they call at all? Why not just send the product and the bill, or even just the bill? They do, but those bills are (usually) easier and safer to ignore. The problem is the "pseudo-legit" businesses, or truly legit businesses (like the WSJ) who hire smarmy outside firms to find new customers. The WSJ requires their partners to send in legitimate subscriptions. And if we complain, they'll check the records, and there will be a note that on March 12, the sales person called us, talked to and took an order. And it'll be hard to argue with that.
Magazine subscriptions are usually a cheap annoyance. That's why they're popular for this kind of scam -- it's not worth our time to argue every un-authorized $19.95 subscription.
The office supply scams are the real killers. "Hi, I'm Sue from HighwayRobberyToner.com. I'm calling about your order; it doesn't have your printer model number on it. Can you tell me if that's the HP 5100? Oh, it's the HP 7100? Great. We'll get those cartridges right out to you."
Yep. It sure didn't have our order number on it, because Sue just wrote it up. But now it does, and some employee's name to authorize the purchase. The bolder companies will fax the order to you to review and even sign. Then (actual case here) we're shipped a very cheap toner cartridge at 2-300% of normal cost, with a signed order authorization. (Fortunately our receivables clerk catches most of these scams. But it wastes a lot of time.)
Bottom line: If you're asked to confirm something that you didn't originally order, start by saying that you're not authorized to make a purchase.
"I'm not authorized to make a purchase, but I can confirm that our address is 1313 Commercial St."
If you're at all suspicious about a call (which you should be if you didn't place the order) please send it to the person who most likely placed the order, or to a manager.
Thanks for being on guard for fraud, and for helping to protect me from magazines full of men's fashion tips. (As if I need that!)
Posted by Bob Pritchett at 10:54 AM | TrackBack (0)
May 23, 2007
Visiting the JCPenney Museum
On Monday I took the family to the JCPenney museum at the company's headquarters in Plano, Texas. (Thanks to Watch it Made in America, my new favorite travel guide.)
I enjoyed walking through the beautiful corporate campus and seeing the growth of JCPenney from a single store in Wyoming to a national retailer with 1,000 stores. The kids would rather have gone back to Six Flags.
But I wanted them to meet – if only through a statue and some black and white film – one of my childhood business heroes. James Cash Penney is one of the people who inspired my love of business, and my belief that it is a force for good in the world.
Business gets a lot of bad press, much of it deserved. There are lots of greedy, selfish business people out there. But there are also business people like Penney, who are guided by the Golden Rule and whose businesses serve the public's interest as well as their own.
Penney laid out his business ideas in 1913, and they are still great ideas today. Among them:
"2. To expect for the service we render a fair remuneration and not all the profit the traffic will bear."
"7. To test our every policy, method, and act in this wise: "Does it square with what is right and just?"
I want my business to do the same.
Posted by Bob Pritchett at 8:27 AM | TrackBack (0)
May 12, 2007
Excellent Customer Service at Anthony's Hearthfire
My wife and I visited the new Anthony's Hearthfire Grill in Bellingham soon after it opened. I ordered the American Kobe Beef Hamburger, which looked pretty good. When I heard they were out of it, late on a Saturday night soon after opening, I was understanding and ordered something else.
Last night -- weeks after our first visit -- I returned and ordered it again. The server (the same one as on our first visit) came back and apologized again. She even remembered us and that we'd played this scene before.
I ordered something else, and wondered if I was going to see customer service in action. I never ask for special treatment; I want to see how other businesses handle things on their own. I speculated to my wife that a free dessert or a complimentary entrée would be a good move by the manager in this situation.
So I was really impressed when my credit card was returned without a bill -- no charge for our dinner for two.
Anthony's adjacent seafood restaurant already gets a lot of my dining business. We take visitors there, buy gift certificates for employee recognition, etc. Last night's experience reinforced my belief that our money is well spent, with a business that knows how to serve customers well.
And it ensures that I'll return -- again -- to finally try that burger....
Posted by Bob Pritchett at 12:55 PM | TrackBack (0)
April 27, 2007
That's my girl...
My 11 year old daughter recently attended a baby-sitting class. One of the first observations she shared afterwards was her calculation of the teacher's gross revenue for the day.
Posted by Bob Pritchett at 9:13 AM | TrackBack (0)
April 21, 2007
How you know you're on an old airplane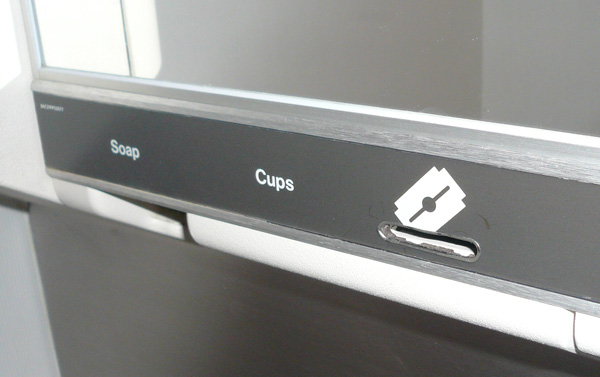 When the airplane bathroom has a slot for disposing of razor blades...

Posted by Bob Pritchett at 2:32 PM | TrackBack (0)
April 15, 2007
It's Okay to Be the Boss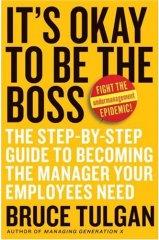 I just finished Bruce Tulgan's It's Okay to Be the Boss: The Step-by-Step Guide to Becoming the Manager Your Employees Need.
I was attracted by the very direct title, and the book delivered. It is specific, detailed, and honest. I particularly appreciated Tulgan's warning that becoming a better manager is like starting a fitness program. I'd rather it wasn't hard, time consuming, and something that requires daily discipline, but I like that he's up front about it. And that his book has so many specific things to do, answers to objections, and reasons it's worth it.
Hiring and firing are hard, too, but they are specific events. In many ways I find them easier than the daily discipline of managing well. I found Tulgan's book useful and encouraging; maybe I should carry copies to give away to managers in stores and restaurants around town….
Posted by Bob Pritchett at 7:07 PM | TrackBack (0)
April 10, 2007
Providing Context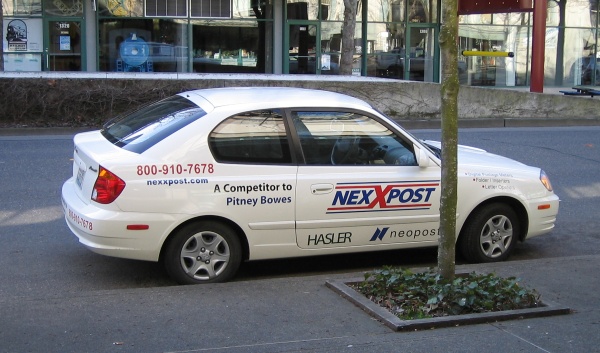 I just saw this car outside my office window. I hadn't heard of Nexxpost before, but now I know what they do: what Pitney Bowes does.

Posted by Bob Pritchett at 10:16 AM | TrackBack (0)
February 21, 2007
EntrepreneurshipWeek USA
The Kauffman Foundation is sponsoring EntrepreneurshipWeek USA, February 24-March 3, 2007. It is all about the importance of being entrepreneurial -- something that goes beyond just starting a business, encompassing entrepreneurial thinking in non-profits, within existing organizations, and more.
Next week's activities range from invention contests to lectures to business movie nights. Check out the nationwide directory and find something in your area. And if you're near Tacoma, Washington, please join me Tuesday night at the University of Puget Sound for my talk "Don't Wait: Why You Should Start a Business Before You Turn 25".
Posted by Bob Pritchett at 9:27 PM | TrackBack (0)
February 18, 2007
Fire Someone Today...in Korea!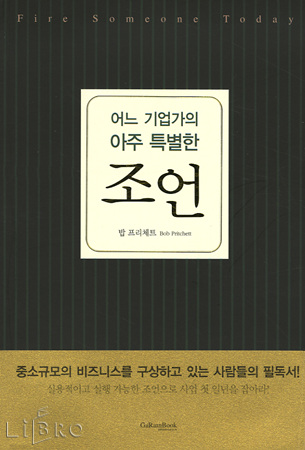 For a while, I couldn't decide if the coolest thing about being a first-time author was walking into a bookstore in another city and finding your book on the shelf, or reading a glowing review from a stranger on the web. When a reader from across the country came to take me to lunch (Chapter 19: Buy Lunch) I thought that was it.
But then my copy of the completely unexpected Korean translation arrived.
(To top this I'll need a Korean reader to write a great review and then take me out for bulgogi and kimchi. Mmmm…)

Posted by Bob Pritchett at 7:34 PM | TrackBack (0)
February 14, 2007
Managing random information
I've spent every working day of my life sitting in front of a computer, and yet there is still a pad of Post-it notes next to my keyboard. Why? Why am I still using sticky pieces of paper and typing my voicemail messages into a Windows Notepad file?
Well, I run a software company, and it finally occurred to me that if I am missing a key software productivity tool, I of all people should be able to get it made. And so I did.
NoteScraps is the application I've been wanting for years. And it's awesome.
Posted by Bob Pritchett at 6:14 PM | TrackBack (0)
January 18, 2007
Entrepreneurs are the ones sleeping on the floor
I was walking through a retail business with the owner and saw some bedding in the back office. "Working late?" I asked.
He explained that late one night he found his front door locks inoperable. He couldn't purchase a replacement at that hour, and didn't want to pay emergency rates for a locksmith, so he had his wife drop off some bedding and he slept on the floor.
As you grow a business you learn to delegate. You give other people some of the chores you used to do yourself. You become a manager. But in times of crisis you can distinguish managers and entrepreneurs. Entrepreneurs will sleep on the floor.
Posted by Bob Pritchett at 6:44 AM | TrackBack (0)
December 29, 2006
Masking tape - the perfect Christmas gift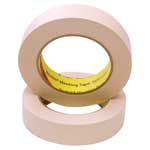 This year I opened a package and found a roll of masking tape. It was the cheapest thing I received this year, but one of my favorite gifts.
While visiting one day, my mother overhead me rummaging through the kitchen drawer and lamenting that I never have any masking tape. And knowing that I would never remember to buy any (and that I don't have the sense to keep a shopping list), she got me a roll.
The perfect gift isn't something expensive. The perfect gift is one that says I was listening to you. (Not that it would be bad if you gave me something that you overheard me admiring that happened to be expensive… like a 63 foot yacht…)
Posted by Bob Pritchett at 11:29 AM | TrackBack (0)
November 29, 2006
Continental Follows Up
I just got a letter from Continental, dated a week after the emergency landing in Bismarck.
It begins "Thank you for your patience and cooperation during the diversion of flight 1881..." and thanks me three times for my cooperation. And my patience, understanding, and support.
It reports the obvious-to-us-aboard news that after an emergency landing was declared, we were "cleared for landing and arrived without incident."
It expresses appreciation for the assistance given by Northwest Airlines' employees and stiffly relates "The reports indicate that pizza and beverages were served while customers were reaccommodated on alternate flights."
Continental "regret[s] that this situation occurred." But Continental's letter is so long and so stiff that it serves only to highlight the absence of the most obvious (yet missing) sentence: "We're sorry for the inconvenience."
The letter would have been more accurately signed by their attornies ("The Law Firm of Dewey, Cover, Butz & Howe"), not the director of customer care.
But there's a $200 certificate attached to the letter, so I'm okay with it.
Posted by Bob Pritchett at 10:38 AM | TrackBack (0)
November 9, 2006
Thanks, Bismarck!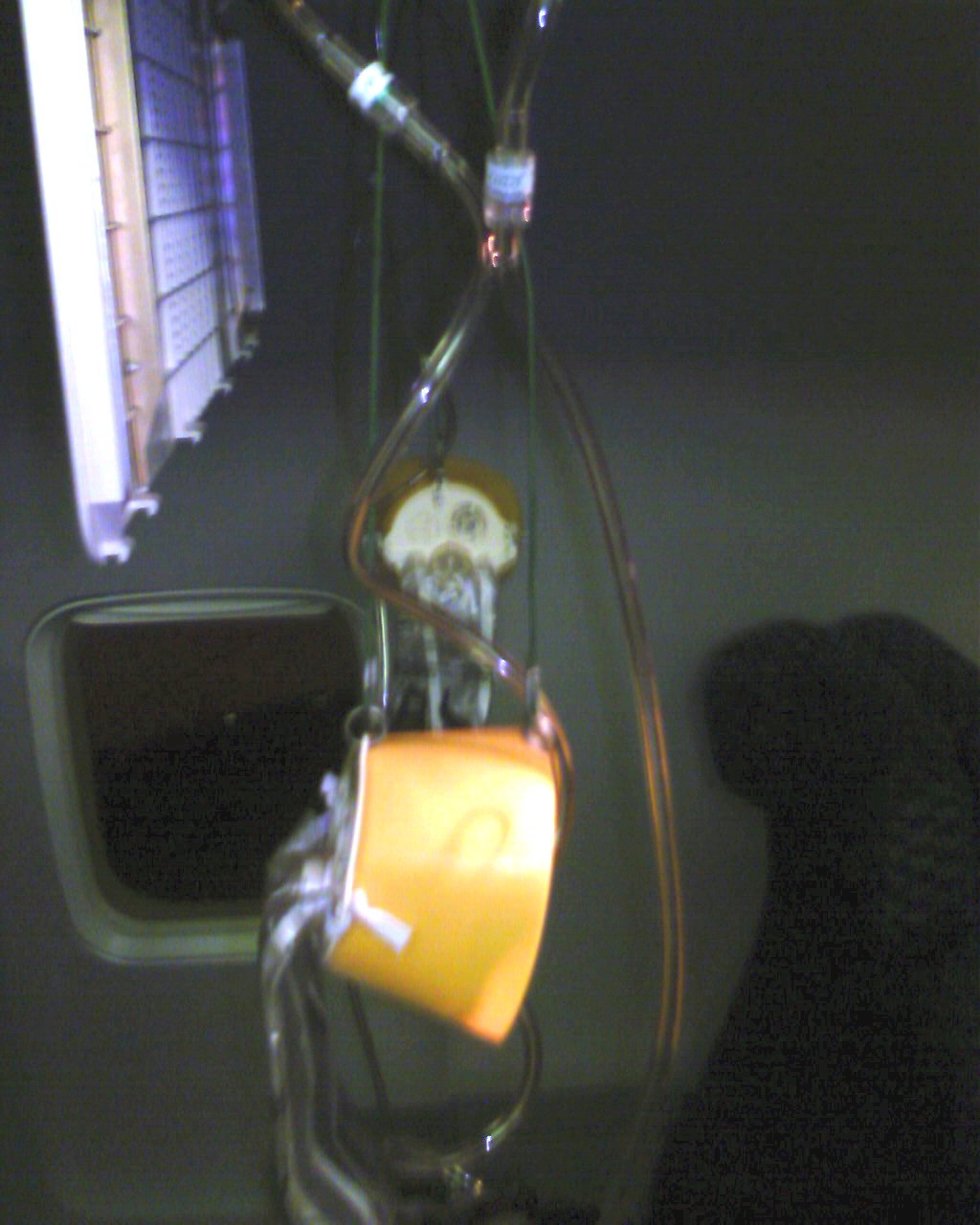 Last night, half-way through a twice-delayed cross-country flight on Continental, my ears popped suddenly. I felt a rush of cold air at my feet, and as I yawned to equalize the pressure I looked around and saw the other passengers yawning and holding their ears.
Seconds later overhead panels dropped and the yellow oxygen masks, so familiar from the pre-flight safety briefings, appeared above our heads. Probably because there was nothing scary -- no turbulence, no smoke or flaming engine -- my first thought wasn't fear but rather annoyance. Once I saw those masks, and that they aren't something you push a button to retract, I knew that plane wasn't going to be taking me home.
(Tip for future reference: You really have to pull hard to snap the mask off the cord that keeps it above head level. Really hard.)
We'd lost cabin pressure for an unknown reason. The pilot took us down to a lower altitude and then landed safely in Bismarck, North Dakota, after an hour of pretty tense flying.
It was after 11 pm, and the airport had already had its last departure. But when we unloaded a plane full of tired, frustrated travelers, the skeleton crew at Northwest Airlines was already working to arrange transportation and lodging for more than 100 passengers. And when Continental decided to fly a new plane in from Houston, to pick us up and continue on to Seattle, the staff rallied to organize snacks, order pizzas, and arrange hotels for people who wanted to stay overnight. TSA screeners and other employees were called back in, and everybody stayed till after 3 am getting us moved to the new plane and safely back in the air.
We landed a whole lot of inconvenience on Northwest and the Bismarck Airport staff, but they were pleasant and cheerful and went out of their way to be helpful. They made an awful night a whole lot better.
Thanks!
Posted by Bob Pritchett at 9:55 AM | TrackBack (0)